Google is back once again with another baby, Google Zebra Update!
The new Google Zebra update is aimed at wiping away all websites that has anything to do with some selection of keywords without considering the fact that its mother company, Adword and Adsense depends on majority of those keywords.
Google announced that its Zebra update is coming in matter of week and its going to have effect on all websites around the world with some of the keywords listed below.
So you should check and prepare ahead of the time so that you wont lose large portion of your business to Google penalty.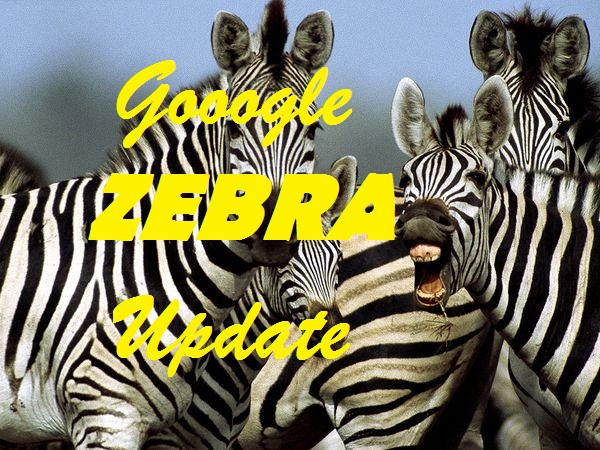 It is aimed at eliminating every websites that has bunch of these keywords and please try to heed to this warning.
In the meantime, the Google Panda and Penguin update has in one way or the other effected 90% of the world searches over the past two years since inceptions - thereby costing many bloggers, business owner and corporate organizations thousands of dollars due to loss in traffic. So, you should checkmate these keywords to avoid Google penalty.
[box type="info"] I see so many requests via email and Facebook asking for valid assurance about this information. Please check below for other valuable sites mentioning this. Shalom![/box]
Google Zebra Update Keywords

Money
New
Get Started Today
Free
Link
Operator
Client
General
Business
My Friend
Payment System
Need
Article
Buy
Sell
Purchase
Store
The
For
Item
Affiliate
Internet
Marketing
Tips
Secret
Share
Sign-up
Register
Login
Web
Salesman
and more site keywords coming on the way
3 Ways to Avoid Google Zebra Update Penalty
Focus on Quality over Quantity
Now that Google has started introducing different kind of updates in order to penalize bloggers for overusing keywords, writing less quality contents and generating low quality backlinks, the future of SEO seems unclear to me. So, I suggest what would work best is focusing on chopping out high quality content by thinking about human instead of search bots.
You need to get personal with what you're writing and make sure that everyone prefer your content to other websites out there all because you are different!
Write long and detailed content to help people solve one or more problems and you will command a lot of respect in your niche.
Avoid Keyword Overuse
Keyword usage matters a lot at this present time when everything seems not to be working perfectly. Google is becoming stubborn in dealing with web spam and I think it is a good move if you can make sure your site does not harbor anything negative.
If any of your web blog falls into these categories, you should avoid keyword overuse. Write what makes sense to the people and not the search engine spider.
Forget Google, Socialize a lot for Engagement

For the past 6 to 7 months, I have stopped monitoring Google's performance for my popular blog, TechAtLast, not because the site is not performing well on Google but because Google is a kind of headache for technology related sites.
So, instead of focusing all my efforts in increasing Google search ranks, I opted for more engagement by using social media to drive traffic and audience for the site.
In my bid not to rely on Google, I stopped using Google Adsense for other ad management companies out there - and the result is encouraging compared to using Google products at all times.
Time for Bing - that's the future!
Bing has been in the search business for long but the company hasn't been functioning well like Google but I can tell you that the future is Bing!
Other sites to read for confirmation
Because you asked for it, I have tried my best in providing factual information to make you guys understand what I am trying to do - share what matters to your blog's future!
What do you think about this ZebraUpdate? Please share your views.