Google+ rises to become the second largest social network globally
Global Web Index collected a data on the GWI.8 fourth quarter 2012 shows the growth in usage of global network platforms, a shift from localized ones. Facebook, Google+, Twitter were favored.
Twitter emerged as the fastest growing network in 2013 measuring with the number of active users as in how engaged it was, and the rapidity in contributions within the past months. Twitter grew by 40% (288M) in 31 markets, measuring to engaging approximately 90% of global internet users, but the active usage in a month is around 21% consistently by the global internet users. YouTube got a favor of 21% monthly engagement, 25% of internet users gets busy on Google+ every month, and Facebook whoops a staggering data of 51% each month.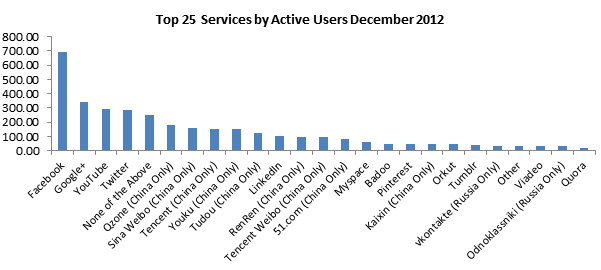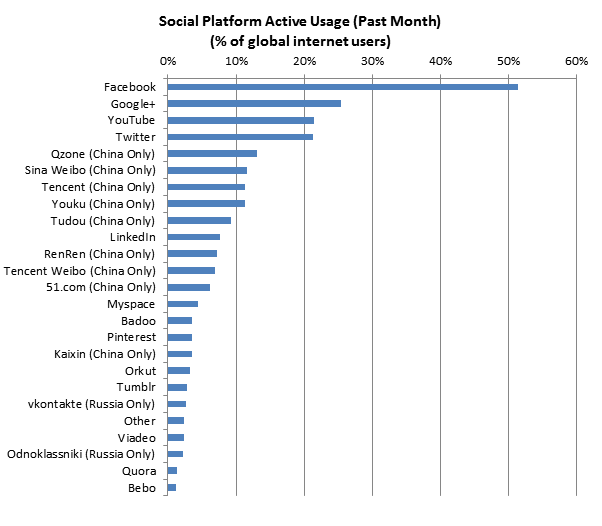 Taking a glance into previous data collations, from the population of internet users between 16 - 64 in the Q2 and Q4 2012, and comparing it to the present available data on country level, the figures has slightly went down proportionally, but remaining the same collations of the research by GWI.
Facebook has about 903M accounts in 31 markets within 16 - 65 years range, adding the totality of the other 10% global internet users that was un-surveyed, and the under 16s and over 65s, the estimate will fall within the 1 billion claimed by Facebook.
In 2012, Facebook went through a lot of fatigues, but still able to scale through growing to a figure of 693M users, about 33% of global usage.
As for Google+ previously tagged as a failure by majority of the media, experienced a surge in active usage by 27% for 343M users, this made it go to the second social media on rating. Being a Google product, YouTube took the third position, with an advantage of linking Google services via the Google+ social.
Other local social platforms are experiencing a decline at while the big guys grows, MeinVz, Copains d'Avant, Hyves are examples. The local Chinese services are not exception of this; Kaixin, Tecent Weibo, QZone and Sina Weibo are sloping down substantially, the case of Tecent Weibo is worst, going down up to 57%.
Pinterest, Diggs, LinkedIn, Tumblr, Reddit and others are not yet taking a good position, but are fast growing.
Source
Share this: post with your friends
About Author

Olukunle Moses